bellapierre Holiday Lipstick Vault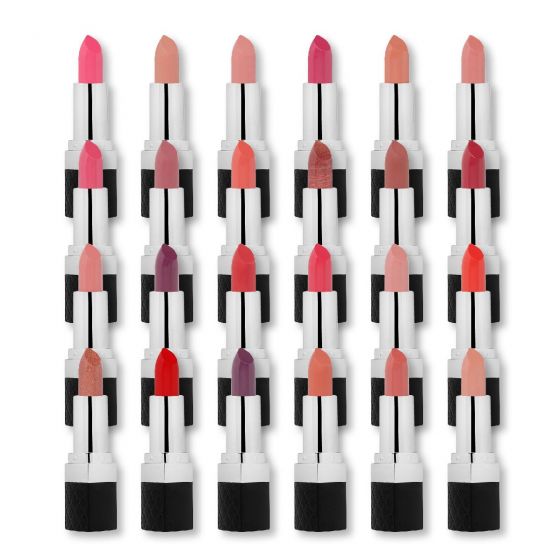 Introducing a brand new full line of matte, satin, and cream lipsticks in our award-winning formula. Featuring 24 richly smooth and ultra-pigmented shades, this collection has it all.
Bellapierre Lipsticks have been formulated with natural waxes and mineral pigments, iron oxides and antioxidants such as Vitamin C and Vitamin E. Our velvety smooth, 100% natural formula delivers long-lasting nourishing color.
Kit includes:
1 Mineral Lipstick - Catwalk (nude pink) NT. WT 3.5G
1 Mineral Lipstick - Envy (dusty rose) NT. WT 3.5G
1 Mineral Lipstick - Fierce (frosted coppery red) NT. WT 3.5G
1 Mineral Lipstick - Luminous (frosted burgundy) NT. WT 3.5G
1 Mineral Lipstick - Ruby (blue red) NT. WT 3.5G
1 Mineral Lipstick - Mandarina (hot orange red) NT. WT 3.5G
1 Mineral Lipstick - P.I.N.K (hot pink) NT. WT 3.5G
1 Mineral Lipstick - Burlesque (berry fuchsia) NT. WT 3.5G
1 Mineral Lipstick - Sassy (coral peach) NT. WT 3.5G
1 Mineral Lipstick - Cherry Pop (deep berry red) NT. WT 3.5G
1 Mineral Lipstick - Couture (violet magenta) NT. WT 3.5G
1 Mineral Lipstick - Bellalicious (bright baby pink) NT. WT 3.5G
1 Mineral Lipstick - Va! Va! Voom! (deep pink) NT. WT 3.5G
1 Matte Lipstick - Nude (natural pink) NT. WT 3.5G
1 Matte Lipstick - Incognito (caramel nude) NT. WT 3.5G
1 Matte Lipstick - Antique Pink (mauve nude) NT. WT 3.5G
1 Matte Lipstick - Fire Red (true red) NT. WT 3.5G
1 Matte Lipstick - Clueless (terracotta nude) NT. WT 3.5G
1 Mineral Lipstick - NYC Diva (peach nude) NT. WT 3.5G
1 Mineral Lipstick - Velvet Rose (soft nude pink) NT. WT 3.5G
1 Mineral Lipstick - Baroness (mauve pink) NT. WT 3.5G
1 Mineral Lipstick - Purple Rain (deep berry) NT. WT 3.5G
1 Matte Lipstick - Pumpkin Spice (coral nude) NT. WT 3.5G
1 Mineral Lipstick - Exposed (natural nude) NT. WT 3.5G